This page is dedicated to Providing for Paws & what we do ... Stories that keep us keepin' on.
Patty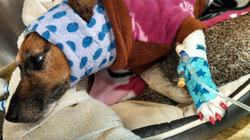 Patty was found in Southwest Detroit on September 12, 2014 by a citizen who lived across the street from Patton Park. He contacted police, who in turn contacted one of our volunteers. Patty had been skinned from one side of the neck to the other, from her shoulder blades to the top of her head. Her skin dangling from the side of her neck when we got to the scene. She was taken to Emergency Veterinary Hospital-Ann Arbor for immediate treatment. She was in shock when we arrived at the home. We could not imagine the pain she had to have been in. Patty was in the hospital for 2 months healing from her wounds. She has now found her loving furever home and family and is a very happy and healthy girl who enjoys playing with her two fur brothers. The person or person's who had done this to Patty are still on the streets.
---
---
Jasper
Original Story:
Jasper's owner contacted Providing for Paws asking for help with medical care. We had no idea just how bad he was until we went to pick him up. He has been suffering from mange for a very long time. According to his owners, only two weeks, however we do not believe this has happened in such a short time frame. Owners were willing to surrender Jasper and once we found a foster placement two days later we went to get him.

Despite treatment by our regular vet, Jasper became worse in just two days of seeing him. Once we got him to foster home, his breathing was labored, he was stumbling when walking with his emaciated body and his eye looked as if something had been eating at it the last two days. His eyes were bad two days prior, however not this bad. We decided to take him to the ER where he was found to be in shock, a temp of 105 and his body was completely shutting down.

Although we believe this is scabies mange, Dr. Ruland has never seen mange bleed so badly before. He had dried up blood caked on every wound on his body, which is almost every where accept the top of his head and neck. He is in a great deal of pain.

We will do everything in our power to get Jasper back to good health. We will need all of your support to help us get him there. He was with these owners for almost 3 years. I can only imagine how long he has been suffering. Please help us in our efforts to bring Jasper back to good health.

Update: We have some pretty disturbing news on Jasper. His surgery was performed last night and after shaving him down and cleaning him up, Jasper has burns covering 60% of his body. Dr. Ruland stated that she was trying to find anything else this could be besides what she suspected, however after ruling out any kind of mange, autoimmune diseases, flea allergy and everything else, she has come to the decision that Jasper has a chemical burn. She is sending in a skin biopsy to confirm, however at this point, she does not believe this is from mange.

Due to Dr. Ruland's findings, we have contacted proper authorities of the matter and gave them all the information they have asked for right now. We will let the proper authorities do what they need to do with the information we have provided and PFP will be concerning ourselves with getting Jasper back to good health. Since there may be an investigation started, we will not be making any statements or comments that may hinder any investigation. We will only be updating everyone on Jasper's overall health and spirits.

Update: Jasper was pretty sedated last night after his bandage changing, when we had stopped by to visit him. We wanted him to just get the rest he needed so we did not stay very long with him. Very difficult to find a place to pet him or touch him to let him know we are there. We just talk sweet to him and tell him he is very much loved and lots of people are pulling for him to get better. Dressing changes twice a day until we start to see some good new granulation tissue forming. We will not know if his eyes are damaged just yet, that is going to be day by day to see what happens. He is getting some gunky discharge from the eyes, however right now they cannot use the normal medication they would like to use for his eyes and have to just coat with an ointment to the eyes to help them heal.





---
Baby Love
Pupdate on Baby Love: happy tails Love was ADOPTED - by her foster mom. Lovie is so special needs we knew she had to have just the right person to adopt her ... just so happens that person was her amazing foster mom Tina.

Meet Baby Love: Rescued from a private owner. We met her and feel in love so we named her Love. Despite her previous owner stating that her grandchildren stepped on her, our vets feel she was born this way.

We took our Baby Love to Michigan State University Small Animal Clinic on 4-3-14 to see just how healthy she is. We think that things went really well in the way of news for Love's condition. We did not hear anything that negative or anything we did not expect to hear. We were over joyed to know that all her blood work is good and her organs appear to operating normal. Her whole upper body is just like they are suppose to be, including the look and size of her heart. She is definitely not right in her lower limbs with all the bones not being in the right place in her legs, hips not developed properly and having an extra vertebra in her spine. Her vulva and rectum are the two biggest concerns for urinating and defecating. Her bladder is empty all the time since she has no control of her bladder at all, she trickles pee as soon as the fluids hit the bladder. Her rectum is tight like her legs, therefore a little concern about constipation and her having issues, if constipation becomes a problem and she gets backed up. However, right now her intestines look great! Orthopedics offered to do some surgery to try and correct her legs, however since she will never have feeling back there we feel this is a waste of time and funding. She looks just fine the way she is and other then trying to make them look normal, there really isn't any reason to correct the bones in the legs. Neurology was not in for the next couple weeks. However, suggested we come back to see neurology or get appointment with Dogwood in Ann Arbor for consult. Suggested MRI to check out the nerves in her spine and hope that neurology can do something with the nerves for her bladder and intestines. This is costly to do and will run close to $1500.00 to have done. Of course she was a big hit with all the vets and vet students yesterday. We were running about 10 to 15 minutes late and they were calling up to the front desk to see if we were there yet. They were all waiting for Love to arrive. Love will need soft tissue surgery on her vulva to avoid urinary tract infection, which we will be scheduling soon.
---
Below is Ayden's Story
and how she helped us help the animals. Just a young girl making a HUGE difference !!! She is truly an inspiration to all.
---
Momma Khol
UPDATE ON MOMMA KHOL'S BABIES
Thanks to Dr. Ruland and EVH in Ann Arbor all of momma Khols babies were safe & healthy. Then released into specially chosen locations where they could grow up to be big happy snappers.



UPDATE ON MOMMA KOHLS' EGGS
August 19, 2014. We are very excited to announce that the babies are here and even more waiting on them to be hatched. The proper authorities have been contacted since snappers are protected under the DNR. Dr. Ruland will be working with a local DNR approved rehabilitating facility to determine where these babies can be approved to go, once they are big enough to be let out into the wild. Momma Kohl would be so very proud of all her offspring and EVH on how well they cared for her babies
---
July 15, 2014
Providing for Paws is deeply sadden by the news we received last night. It is with very heavy hearts that we tell you, Momma Kohl was in for her nightly soaking at about 8:00pm last night, when she suddenly passed away. She was doing so well and Dr. Ruland was so excited because her jaw had fully fused back together this week. We had absolutely no indication this was coming and will never know the reason for her passing after doing so well the last month. Not only was this shocking to all of us, we are incredibly devastated by her passing. PFP is extremely proud to have been a part of trying to save her life, however we are even more appreciative of all the hard work and dedication that Dr. Ruland and her staff has done to do whatever it took to try and save her. We were only the go between to getting her to where she would get the exceptional care that she had and needed, along with her babies. We would appreciate all our followers to visit
Emergency Veterinary Hospital of Ann Arbor
's facebook site and thank Dr. Ruland for being so dedicated and loving to all the rescue animals that have come her way. PFP cannot thank her enough for all the love an attention EVH gives to each and every creature that is brought to her. R
I
P Momma Kohl, your babies are being so very well cared for, for you. EVH will be having her privately cremated and she will be forever in our hearts.
Update on Momma Kohl 7-2-14
Momma Kohl, who is recovering really well. Her babies are also doing well in their little incubator set up Dr. Ruland and the staff have set up for them. They have a chart numbered 1-51 and as they think of cool names for the babies they write them down next to the number. We will be looking for good homes for the babies and a special place for Momma can go to get taken care of once she is healed. Have made a call to the DNR and follow up call to Westland PD to see if anything was on the video to catch the person who put Momma in the trash can. Waiting to hear back from both.

Update on Momma Kohl 6-20-14
Momma Kohl had to be put in an e-collar because she is messing with her dental work. She was a little stubborn about getting it on by pushing her neck back inside her shell, and when she can't get her way, she kind of pouts about it. She really does have a little personality going on. She is doing amazingly well! What is left of her nose is beginning to heal really good and yesterday she was walking around trying to find a warm spot under the heat lamp. She still has 5 eggs that she still hasn't laid. Westland Police have not gotten back to me yet about anything on the video, so I will be doing follow up with them soon.

Update on Momma Kohl: Momma has not passed any more eggs since last night, leaving the count at 45 so far. There are more eggs in the birth canal that still need to come out. She has not been to active outside of water, however she does start moving around when they take her to water for a nice soak. She is not the best candidate for surgery since she is septic, however the wound to her jaw and face is in need of surgery to clean the infected areas and start rebuilding her jaw. The plan is to get her to surgery this afternoon with or without delivering all her eggs. If she has not delivered the rest by this afternoon, then they will be taken by C-Section when she goes into surgery. She is getting more IV fluids now and later will be given a feeding tub to help her eat. We are not sure of the long term plan as to where Momma or her eggs when hatched will go yet (60 days to hatch). We are looking into places that will give them all everything they will need and be in safe hands. Momma will most likely need a little extra care wherever she goes and possibly special foods that will soften in water when she is ready to leave the hospital.

Many of you have inquired about making donations and a chip-in for Momma Kohl. Since Dr. Ruland is doing the reconstructive surgery at her own expense (we love her for being here for all our animals, no matter how grave the situation is), we are asking for all of you to please make donations directly to Emergency Veterinary Hospital of Ann Arbor to help offset the cost of care for Momma Kohl and her babies. Donations to them can be made one of two ways. 1. Paypal will do donations to an email for them at: emergencyvetannarbor@gmail.com or you can mail a check or money order to: Emergency Veterinary Hospital-Ann Arbor, 5245 Jackson Road - Suite E | Ann Arbor, MI 48103
---
Duece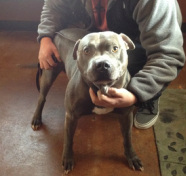 Duece's Story: Deuce was found in Detroit, emaciated and having cancer of the mouth and nasal cavity. Deuce has found his furever foster home while PFP provides for all his care. Deuce was expected to beginning suffering within 3 months, where we were advised that he would need to cross the rainbow bridge. Deuce has been with us for almost a year, his tumor is shrinking and he is a happy and healthy dog now that he is being treated with a holistic vet.
---